New Clients
EXPERIENCE THE MAGIC AT MERMAID
Welcome to Mermaid Hair Extensions! We are a team-based salon that specializes in extension services. We can't wait to meet you and help you achieve the hair of your dreams!
When you make an appointment at Mermaid, you don't need to select a specific service provider. You will get to know the whole team and be able to come in whenever it's convenient for your schedule. You will typically have 2-3 stylists working on your extension application process—making your visit much faster than in a typical salon environment.
Have a last-minute event? No worries! Our large inventory of in-stock extensions allows us to book same-day appointments.
Have questions?
We've got the answers.
WHAT TO KNOW BEFORE YOU GO
Before scheduling your first extension appointment, please book a complimentary consultation. The consultation will take 20-30 minutes. We'll analyze your hair, show you the different types of extensions, give you our recommendations and help you determine if extensions are right for you.
Typically your own natural hair needs to be at least 3-4 inches long to achieve a natural looking result. If your hair is cut above your ears or above your collar we may suggest you wait until it's grown out a bit before applying extensions.
After we have applied your new hair it's important that you maintain the extensions at home. We will recommend that you purchase Mermaid Extension Care Shampoo and Conditioner which is free from oil, silicones, alcohol and sulfates, so that your extensions are guaranteed to last. As long as you are following our maintenance recommendations for at home care, we guarantee our work and we will replace any extensions that fall out within the first 8 weeks.
We want you to love your transformation! Federal law prohibits the return or exchange of hair extensions after they have been applied, but if you're ever not satisfied, please let us know within the first 7 days and we will make adjustments to your style right away.
Free haircuts and trims are provided when you are wearing our extensions. Just book a free "follow-up" appointment for this service.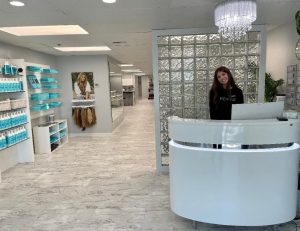 BOOKING YOUR APPOINTMENT
Stop by one of our locations or tap here to schedule your appointment.
Choose your Location