Hair Extensions

Hair extensions can be used to add length, volume and color to your hair. We currently offer four different methods.
The first step is a FREE consultation to determine if hair extensions are right for you. Consultations usually take about 20 minutes and, after taking a thorough history of your hair and answering any questions you may have, we will work with you to determine which type of extensions would help you achieve your desired look. We will carefully match your natural color and texture so that your extensions will be virtually undetectable and easy to maintain.
If you want to have your extensions applied on the same day as your consultation, we can usually accommodate your request as we carry a large selection of hair and have most colors and textures in stock at all times.
We currently offer four different methods of application.
1. Keratin/Fusion
Our
KERATIN/FUSION
hair extensions are the most durable, long-lasting and low maintenance. We match real 100% human hair in the same texture and color of your natural hair and apply it small strands. The bond is about the size of a grain of rice so they are free moving and you are able to wear your hair many different ways. With proper home-care they will stay in your hair 3-5 months. This method takes about 2-3 hours to apply. We have five different packages to choose from based on how much hair you want to add. The packages range in price from $185-$2,395. The primary brand of hair we use for this method is called
HairDreams
.
Here is an example of what fusion extensions look like in the hair: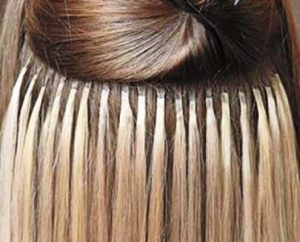 2. Tape-In Extensions
Our
TAPE-IN
extension service is called the
Instant Mermaid
. We call it instant because it only takes about an hour to get a full head of extensions, so you can have long hair instantly! These extensions are applied to your hair in strips with a medical-grade adhesive and are sometimes called "seamless" extensions because they lay flat and seamlessly blend into your natural hair. They are made of real, remy human hair, and are excellent quality. The cost is $1,195 for a full head of 20″ or $1695 for 24″. These will remain in your hair for up to 6-8 weeks and you can come back and have the same hair re-applied up to three more times for only $295. One of the brands we use for this method is
Easihairpro
.
Here is an example of what tape-ins look like in the hair:
3. Link Extensions
LINK
hair extensions are a nice alternative to fusion bond extensions and are sometimes called micro-links, I-tips or beads. These are attached in small strands to your own natural hair using color-coated copper beads to link strands to your natural hair. This process uses no heat, glue, or weaving. They will stay in your hair for 2-3 months and can be re-applied up to two more times. The package prices range from $185-$2,395 depending on how much hair you desire. The primary brand we use for this method is
Dreamcatchers
.
Here is an example of what links look like in the hair: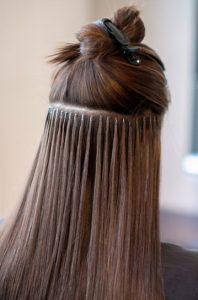 4. Wefts
WEFTS are rows attached to your natural hair with small silicone-lined beads. The initial application takes two hours and the cost is $1,895 for 20" and $2,395 for 24".
Volume Wefts add maximum volume and length. You will need to come in every 6-8 weeks to have the hair moved up. The cost for a re-application is $295. With proper care you can continue to use the hair for up to a year. We use Bellami Professional Volume Wefts for this method.
Hand-Tied Wefts have the advantage of being thinner, finer and more flexible. These are applied with a low tension method ideal for finer haired clients. The hair we use for the hand-tied method is Easihairpro.
Here is an example of what wefts look like in the hair:
Note that our hair extensions are sold as a complete package. We start with a deep cleansing shampoo and clarifying treatment, and once the application process is complete your hair will be cut to the desired length and styled. We will send you home with a kit that contains everything you need to take care of your new hair. Whichever package you select, you will receive free hair cuts for the life of your extensions as well as removal of the extensions whenever you would like.
HAIR EXTENSION MAINTENANCE TIPS
Protect your investment by using Mermaid Extension Care products for extensions to keep hair strong, healthy, and shiny.
Tie your hair back at night in a loose ponytail or braid.
Never go to bed with wet hair.
Wash hair as often as necessary to keep it clean and oil free.
Don't allow hot tools such as curling irons to touch the bonds.
Don't use any hair products that contain oil, alcohol, or silicones.
Never try to remove the extensions yourself.
Brush hair thoroughly before every shampoo.
Have all chemical processes, such as color or perms, done in the salon by a professional stylist.
A silk or satin pillowcase will help keep your hair tangle free.